Outdoor Showers that take your backyard to the next level
Have you been flirting with the idea of an outside shower for your home? An outside shower can seem like a luxury that people can't find a use for. However, outside showers are very useful and affordable. They create the perfect outdoor oasis to complete your backyard and take it to the next level. They also have practical purposes. Whether you have an outdoor pool or jacuzzi and need to rinse off before coming in the house, or whether you have post gardening dirt that you want to rinse off so it doesn't track through the house. Outdoor showers serve multiple uses and below are a few that will take your backyard to the next level.
Elle Décor features a dining adjacent outdoor shower for guests after a backyard pool party. This backyard oasis allows you to entertain guests on another level. Whether you are grilling, or playing marco polo in the pool, this outdoor shower allows you the freedom to shower before dinner and rinse off your feet before entering the house.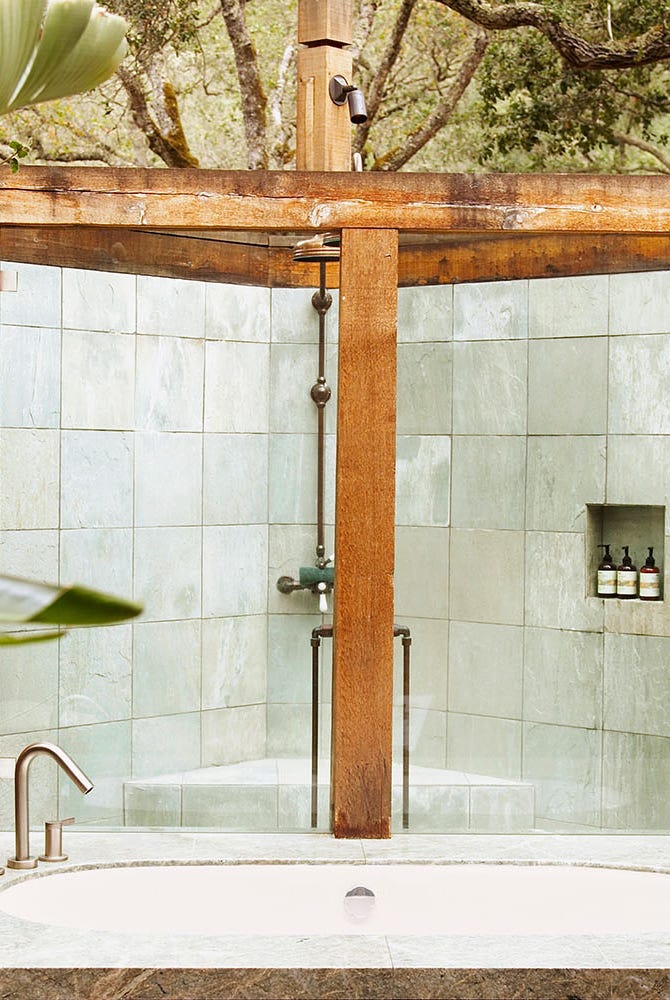 The Spruce features this outdoor glam shower for those looking for options that are more glamorous and less rugged. The great thing about outdoor showers is the versatility that they offer. If you are looking for an outdoor shower that matches your indoor décor then it can be done. Outdoor showers are highly customizable to fit your vision and the look you are going for.
House beautiful features this beautiful outdoor shower complete with a secluded bathtub. If you really want to take your backyard oasis to the next level, then this is it. Not only is it secluded from peeping toms, it's also perfect for bathing under the stars. With customized tile, this outdoor shower and tub combo are sure to withstand the weather.
If you are looking to upgrade the look of your backyard by adding a custom shower, call us today for a quote. We take pride in offering custom shower solutions for our customers. We can make your dreams a reality.